Affiinity helped leading Danish designer furniture manufacturer - Carl Hansen & Søn - expand their sales pipeline through a new digital B2B sales process
Challenge
The Danish leading design company Carl Hansen & Søn (CHS) have had most of their furniture fairs cancelled in both 2020 and 2021, due to COVID-19.


Especially the cancellation of the Furniture Fair in Milan – Salone Del Mobile - the most recognized global fair within the industry was a challenge for CHS, as it was for many other furniture manufactures. Salone Del Mobile is where CHS traditionally reaches out to existing and new clients and launches new products to show to the press, dealers, architects, and designers. Due to Covid-19 and all the cancellations that has not been possible to do for over one and a half years.


Finding new ways
CHS had to find new ways to build their B2B pipeline and introduce their new products to clients. CHS knew that entering a digital transformation was a must. CHS partnered up with Affiinity to do just that.

Our finest role here at Affiinity was to initiate the digitalization of Carl Hansen's sales process and boost their B2B pipeline. Reaching international Architects and Designers, digitally nurture them until they are scored as qualified and thereby ready to be handed over to the experts - the Carl Hansen sales representatives!

CHS kicked off their new digital journey, with various new developed activities to increase CHS' online engagement.

The first activity was "Open House", an online summit where participants were able to sign up to attend online debates and talks on topics such as 'Sustainability', 'Colors' and 'Hygge', as well as product launches.


The first initiatives of the program
CHS' online Open House were two days filled with 8 amazing live sessions, where key designers and opinion leaders attended talks and debates. These debates included amazing speakers and designers such as Editor of Chief Interior Design Cindy Allen, Designer Ilse Crawford, Paola Antonelli, Senior Curator of MOMA, Dezeen, Design Critic Alice Rawsthorn and many more.

For the event, a production team of 12 persons from Reimar Event Design produced all content and streamed the 8 sessions in 4 different venues in Copenhagen, Factory in Gelsted Denmark, New York and London.

The Carl Hansen team and Reimar Event Design honestly did an amazing job here - content is key and they did it!


Results
The results from our initiative of the digital sales program were beyond all expectations!
1700 signed up for the online event with 8 different sessions (Participants including international A&Ds, Dealers, Press and Consumers)
Potential reach is 23 million (Views and awareness through a variety of channels such as LinkedIn, Facebook, Instagram, Pinterest, the press, influencers, and key speakers)
125.000 interactions (Visits and interactions with Carl Hansen homepage, landing pages, affiliate and partner sites, banners, ads and e-mails)
40 % of the contacts are from the inner circle of Carl Hansens & Søns target audience (A&D contacts registering to Open House and of which at least 80% were new contacts from already known or new companies)
1.286 Architects & Designers signed up for Carl Hansen's content and activities in one year.
The hardcore KPIs set for the entire program has already been exceeded by over 150%
Ads examples from Open House promotion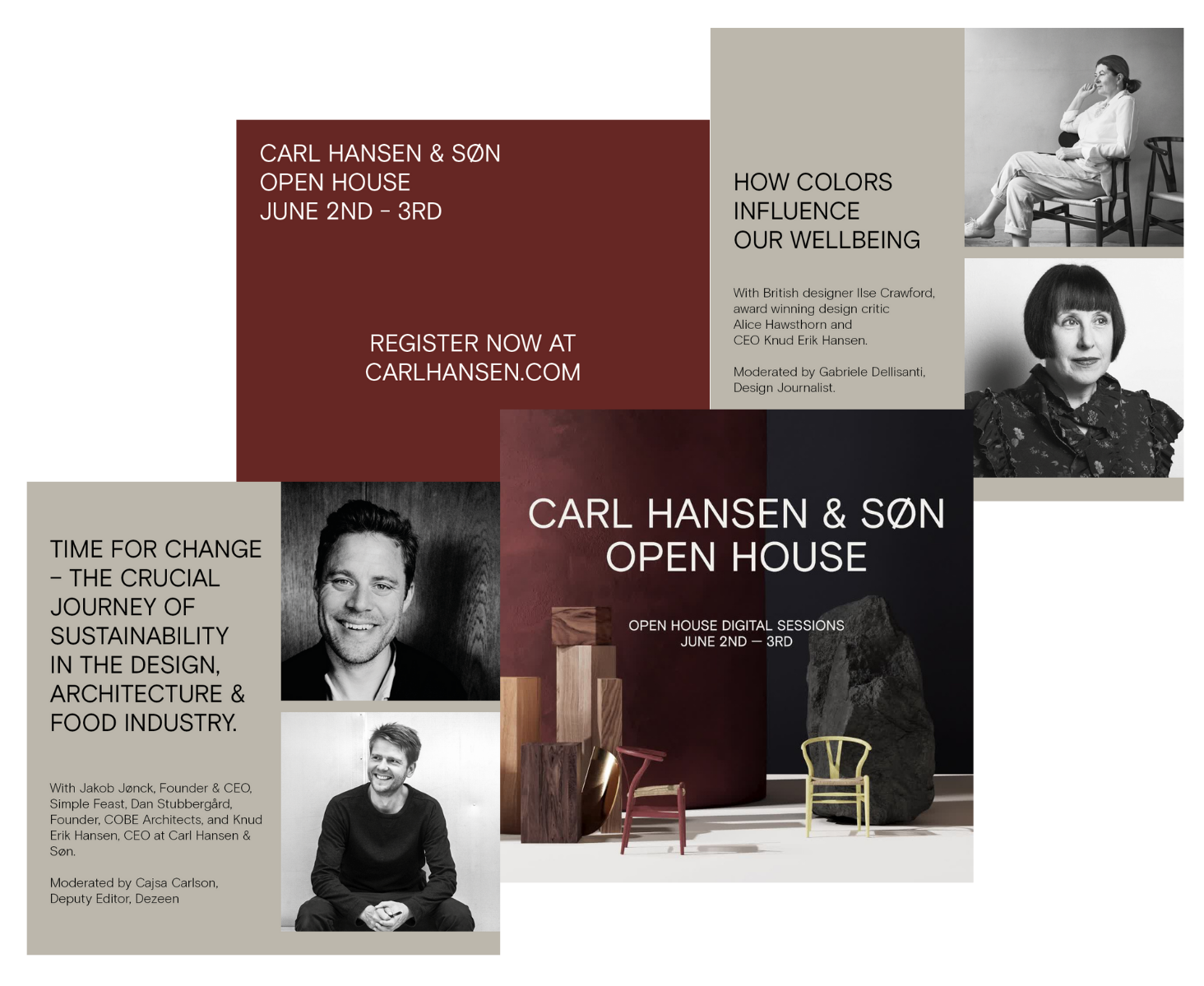 Content and channels
All the ads were promoted through Social Media channels. Both organic and paid media. An enormous thanks to all the "stars", the influencers, key speakers, the press, and opinion leaders from the events, who also shared messages on their own Social Media channels before, during and after the event.